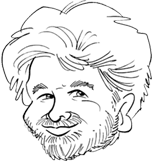 Lots of words have popped up lately to describe things you can listen to from the internet: podcasts, audiobooks, streaming media, etc. What's important about what's offered here is that they are downloadable MP3s (they'll play on virtually any audio device…and because you can download them…you don't have to be on Wi-Fi to listen…so they are perfect for long car trips!), and that they are FREE.
In addition to our main Stories page, we are very pleased to present some quality stories read by others right here on our site.
More Stories & Story Links
More Stories
Shelby the Unique Sheep
Written by Keri Schmidt-Early. A children's story about a green sheep that finds out that it's ok to be green. No, really!
Stuttering Stan Takes A Stand
Written by Artie Knapp. A story about a squirrel who is teased and bullied about his stuttering. But he refuses to let on about his hurt feelings…until he learns an important lesson from a new friend.
Stories On Other Sites
Here are some other cute stories we've seen on other sites:
Artie Knapp's Free Children's Stories E-Books including "Bipper and Wick" – A story about youth-full rebellion that leads to an unlikely friendship. What happens when a young bear decides that hibernation is just a waste of time? "Sprinting Spencer Still Wants to Run" – A former star thoroughbred race horse struggles with his racing days being over. "The Hummingbird Who Chewed Bubblegum" – A little hummingbird wants gum and can blow big bubbles. "The Lazy Loppin Goat"- A little goat's unwillingness to eat grass gets her accused of being lazy. "The Rooster that Wouldn't Crow" – A story about individuality and the right of a rooster to fall in love with anyone he wants to fall in love with. "The Wasp and the Canary" – A wasp comes looking for a tasty dinner and finds a friend. "The Sweet Smelling Skunk" – A little skunk's sense of humor is his best defense against tormentors.
Alvie, The Little Brown Burro by Kathy M. Lovelace, read by Barbara M. Nelson