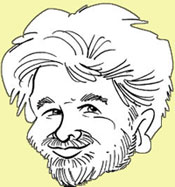 Hi, my name is Chuck Brown. As you can see on the Stories page of this site, I read stories for children and make them available for free download as streaming or MP3 audio story downloads. They receive significant exposure worldwide. I've heard from places as far away from here (Ohio, US) as Korea, Iran, Russia, China, Australia, Africa and South America. Some radio stations (both low-power neighborhood stations and broadcast outlets) have sought, and received, my permission to use these as part of their radio programming.
They are listened to on computers, mobile phones, tablets, and MP3 players worldwide….all without cost to the listener. In addition to children who listen to them at bedtime, whole families sit and listen together while relaxing or on long car trips…and, as an unexpected bonus, many English as a Second Language (ESL) students (both in the US and in other countries) have reported how much they enjoy using these tools to learn the language. You can read many comments from visitors on the Comments page.
As you might imagine, I'm quite delighted that these stories have received such massive exposure and acceptance. I fully intend to record additional quality stories as I have the time. In fact, some are already in process. However, since I'm not really a story writer myself (I prefer writing songs!), I am largely limited to public domain stories…which tend to be quite long, and often suffer from language that is a bit antiquated (uncomfortable for today's listening audience).
So I am extending this invitation to the authors of stories for kids: If you have a story or two that you'd like to submit for consideration, I'd be interested in evaluating your story for possible inclusion here. The benefit to you, of course, is a link back to your web site (and your other work)…which hopefully leads to traffic, exposure, and an additional "feather in your cap" in terms of your portfolio, and the benefit to me is that the site continues to grow and draw an ever-larger audience. If your story is accepted for inclusion here, there is no cost involved to either of us. I don't charge to record the story, and you don't charge for me to offer the story for free download. This will, of course, rule out stories for which you don't control the publishing rights…as publishers always want to be paid for any usage. The rights to the story remain with you, and the rights to the audio file remain with me, so that I can allow it to be downloaded. And if, for some reason, you ever want it removed from free download status…I would do so ASAP. Obviously, the copies that have already been downloaded cannot be recalled.
If this strikes you as an interesting proposal, or if you have any other questions, feel free to contact me using the email address on the Contact page.